Welcome to Springdales School, Pusa Road
A School with a Heart
Springdales is a progressive educational institution. The school was established in 1955 with its commitment to national revival and internationalism. Its motto 'Vasudhaiva Kutumbakam', the world is a family encapsulates the vision that has guided the school over the years.

At Springdales, education is looked upon as holistic learning experience to help children to develop qualities of head, hand and heart which will make them self-reliant individuals and fine human beings, socially aware, compassionate and kind, having pride in their country. People who are ready to work as agencies of change for building a more socially just and equitable society.

We endeavor to sow the seeds of acceptance, collaboration and empathy that will help students to deal with the challenges they face as adults. We believe that learning takes place in a variety of ways- in the community, through peers, information technology, media, literacy, life skills and well-being initiatives.

We have opened up our learning spaces in innovative ways that seamlessly link the school with the world outside. This will help to connect the global with localized communities enabling a vision that will be based on collective good and shared interests. Affirmative action holds the power of equity, empowerment and opportunity.
Parameters of Excellence
Community Service
Parental Involvement
Disabled Friendliness
Leadership Management Quality
Competence of Faculty
Co-Curricular
Discipline
Life Skills
Academic Representations
Value for money (The lowest fee structure in Public Schools)
The Principal's Desk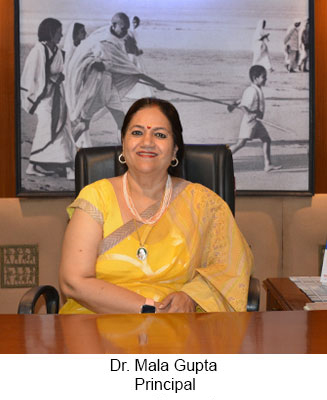 "Education is the most powerful weapon which you can use to change the world."

- Nelson Mandela
The vision of our founding principal, Dr. Rajni Kumar, has always been to create a learning space committed to providing a joyous and spirited environment for our children. Today, that vision is being taken forward by Dr. Jyoti Bose under whose guidance we at Springdales, Pusa Road strive to develop studies and skills in our children that will help them become confident and responsible global citizens.

We firmly believe that today's youth is capable of bringing great changes, helping the nation progress in every field. It is with this hope and faith that we seek to instil in our children values of empathy, leadership and the passion to follow their dreams.

Springdales nurtures every student's talents in all spheres be it academics, sports, visual or the performing arts. The holistic and individualized learning environment provides a setting conducive for self-discovery and independent decision making.

The brilliant performance of the students in the board examinations showcases the school's dedication to sustaining the highest standards in teaching. Our inclusive education policy ensures that 'no child is left behind'. With a team of dedicated teachers for guiding children and helping each one reach their full potential, we have successfully created a secure and safe environment for all our learners. Team work is the essence of any good institution and the relentless dedication of our staff members continues to ensure quality education to all.

As we witness drastically changing times that have upended years of practice, we continue to move forward with commitment towards providing only the best for our children in these testing times. We must all come together to reassure our children that kindness, courage, patience and hard work are foundational pillars. Focused and well-research methodologies, workshops and training sessions for staff and students ensure that we stay abreast with the latest developments in the field of education.

The parent body is an integral part of this institution that has always supported our initiatives. Our endeavour will always be to nurture & strengthen this harmonious partnership between students, teachers and parents. This consensus, transparency and partnership will affirm our motto "Vasudhaiva Kutumbakam", the world is one family.

A true Springdalian is one who works with determination, moves forward with courage and firm resolve and succeeds in life despite various challenges. As Jonas Salk said, hope lies in dreams, in imagination and in the courage of those who dare to make dreams into reality. In these changing and unpredictable times, we must work harder than ever before to safeguard the future of our children and continue to encourage them to move forward till we can do so in person.