The Principal's Desk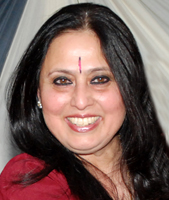 Principal, Springdales School Pusa Road and Kirti Nagar,
Former Chairperson, National Progressive School's Conference
Manager - Springdales School, Jaipur
New Delhi.

Recipient of National Teachers' Award 2005 from the President of India.

Experience:

Principal / Director of National and International Schools in India and abroad for over four decades.

Work in the area of Schools and Education:
Lead member of Global Education Leaders Program of the jurisdiction of UK, Finland, China, Brazil, British Columbia and India.
On the steering committee of the General Body of N.C.E.R.T and N.U.E.P.A.
On the steering committee of the Peace Education Programme launched in collaboration with UNESCO.
On the Advisory Board and Governing Board member of the Central Board of Secondary Education (CBSE).
Member of the Finance Committee and the Affiliation Committee of the Central Board of Secondary Education (CBSE).
On the Advisory Board of India International Centre (I.I.C)
Member of National Council for Teacher Education (N.C.T.E.)
Former Member of the Advisory Board Delhi Government.
Conceived and created the Training Manual and Presentation for the Continuous Comprehensive Evaluation - education reform.
Created Values Education Kit in collaboration with NCERT & CBSE for the Ministry of HRD.
Member, Focus Committee of the National Council of Education Research Training (NCERT). Formed to frame the curriculum for Peace Education to be integrated in schools from primary to high school levels.
Worked for the past three decades in the area of Education and Peace and Human Rights with youth and women to develop awareness in the areas of Environment, Child Rights & Women Development programmes.
Curriculum Development:
Developed the 'Values Education Kit' under the aegis of Ministry of Human Resource Development and Central Board of Secondary Education.
Developed a 'Gender Education Module' in collaboration with National Council of Education Research and Training (NCERT) and State Council of Education Research and Training.
Conceived and created the textbook for CBSE Mass Media Studies Class XII.
Developed the scheme, the Teachers Manual and Training Module with the CBSE for 'Continuous Comprehensive Evaluation'.
Workshops Conducted As a Resource Person:
Master Trainer for CBSE, NCERT and SCERT.
Conducted a Master Trainers Workshop for CBSE Schools under the aegis of CBSE on 'A Sustainable Future through Values: A Shared Responsibility'.
Organized an 'Innovative Schools Workshop' in association with Microsoft and Learning Links Foundation.
Conducted a series of workshops under the aegis of SCERT for state run schools on 'Tools for Formative Assessment in Science and Social Science'.
Organized an intensive five day training programme for Principals from all across the country in collaboration with the Ministry of Human Resource Development, CBSE and the International Confederation of Principals entitled 'Measuring Growth'.
Conducted the Master Trainers session on Examination Reforms and the Continuous Comprehensive Evaluation(CCE) scheme for standard IX- X.
Conducted workshop on "Strategic Leadership" for the Principals of CBSE Schools at IIM Calcutta.
Conducted workshop on "Merging Boundaries & Shifting paradigms in Education" for school teachers.
Conducted workshop on "From Being to Becoming Mystries, Mindsets and Multilogues" for school teachers.
Conducted workshop on "Integrating Education concepts for Peace through Gender Sensitivity, sustainable Development and Multicultural Learning into school curriculum" at St. Mary's Convent School - Allahabad.
Building Bridges of Peace: Integrating School and Society for Principals and Teachers at Heritage School, Calcutta.
Enhancing Leadership Capacities and Potential Among Professional Women at IIM, Ahmedabad.
'Leading Schools' at IIM Lucknow.
Story Telling Through Peace Education and the Mission of Healing: (Workshops on Drama) at the conference on Transformation of World through Peace Education at the IXth Assembly of the World Council of Churches at Porto Alegre, Brazil.
Conducted a Human Rights Workshop organized by the International Association for Religious Freedom, Calcutta.
'The experiential nature of Peace Education', National workshop for educators.
'Critical Moment in Inter-religious Relations and Dialogue:Thinking Together, Assessing the Present, and Imagining the Future', for the Preparatory Committee, World Council Churches, Geneva.
Conducted Workshop for the Teachers and Teacher Educators in India and Sri Lanka, organized by the Sri Lankan Ministry of Education and the Asia Pacific Centre of Education for International Understanding (UNESCO), Sri Lanka.
Papers Published and Presented:
`Creativity and its Development in Students Role of School Teacher and Society` in Creativity in Education, Sarup & Sons
New Educational Concepts : Max Muller Bhawan, Hyderabad.
Women's Voices : International Common Wealth Conference.
The Child as a Unicorn : English Teachers Conference, Osmania University, Hyderabad.
A difference of View : National Conference for Feminist Studies.
The Art of Communication and Public Speaking: AIACHE, Bangalore.
Creativity in Education - Role of School, Teacher and Society : Kakatiya University, Warangal
Awards :
Recipient of National Teachers' Award 2005 from the President of India.
Recipient of Australian Excellence Award for her work in the area of multicultural learning and developing linkages between India and Australia.
Recipient of the Endeavour Award an initiative of the Austrailan Government for reform in their National Curriculum.
Recipient of Great Indian Women Award in field of Education and Women Development.
Recipient of 'Order of the Star of the Italian Solidarity' Award conferred by the president of the Republic of Italy.
Award for Environmental and Ecological Education by The Indian Institute of Ecology and Environment.
Global Human Rights Protection Award by Indian Institute of Human Rights.
Shiksha Shiromani Puraskar awarded by the Institute of Economic Studies.
British Council International School Award by the British Council.
Pride of India Award for outstanding individual achievements and distinguished Services to the Nation.
Dr. S. Radhakrishnan National Award -for outstanding service in the field of education.
Rajiv Gandhi Rashtriya Ekta Award for outstanding services and achievements by All India National Unity Congress.
Industrial Excellence Award for work in the field of Mentally challenged children (Autism & Dyslexia)
Award for Environment and Peace by The Indian Institute of Ecology and Environment.
Indira Gandhi Sadbhavna Award for outstanding individual achievements and distinguished services to the Nation by National Integration and Economic Council
"Quality Education and Awareness Award" by World Quality Congress for implementation of quality programmes and Policies.
Certificate of Appreciation on "Recalling and Rebuilding Common Cultural Heritages at National and Local levels in Multi-Religious Societies in Asia" organized by International Association for RELIGIOUS FREEDOM, Oxford, UK
Vocational Education and Development Award for outstanding work done in the area of vocational education.
World Human Rights Promotion Award for work done in the field of Human Rights.
Award for Coordination of School Activities, at the Eight Conference of Parties (COP - 8) to the United Nations Framework Convention on Climate Change (UNFCCC) by National Museum of National History.
INTEL Technology Grant for the Best Integration of Computer Technology in Curriculum
Award of Honour in recognition to services in the filed of Education and Community Services by State & National Awardee Teachers Association, Delhi.
Delhi Environmental Education Didactics (DEED) Award for the outstanding contribution in the area of environmental education.